---
JEWISH DAILY BULLETIN - January 19, 1934
AS REPORTED in the Jewish Daily Bulletin, a group of Karaite Jews from Volhynia applied in the Warsaw Palestine office for Chalutzim certificates.
They are eager to settle in Palestine.
The Karaite Jews, a Russian sect adhering to the letter of the Law of Moses and opposed to the traditions of the Talmud, always kept aloof from the Jewish people, and on several occasions displayed an inimical attitude toward the Jews, even at the time of the pogroms.
The Karaite sect was small in number, and the Tsarist Government gave it privileges which it denied the Jews.
This widened the chasm between the Jews and the Karaites.
With the collapse of the Russian autocracy and the equalization of the various nationalities under the Soviet regime, the differences between the Karaites and the Jews have disappeared.
The reawakened Jewishness of the Karaites and their longing to settle in the Holy Land with the aid of the Zionist organization is another striking illustration of the magnetism of the Zionist ideal.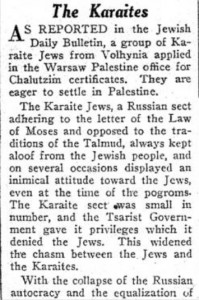 Text provided by Sergei Shaitanov